Reorganize client settings to avoid 'wall of toggles'
Idea
Structure the Client Settings to further group settings according to type or functionality.
One possible example...
Appearance

General (implicit subcategory, maybe no header): show lag, keep screen active, etc
Language and input: language, enter key on keyboard, current Autocomplete category
Messages: current messages category, with subcategory for Avatars (disabled when separate nicknames is disabled)
Theming: theme (eventually will have theme preview gallery and custom colors)

Notifications: current Notifications category
Connection

General (implicit subcategory, maybe no header): show notification
Backlog: current Backlog category
Certificates: access to current certificate manager
Any additional client-side connection parameters, e.g. session timeout if needed
Or something else?
This will include simplifying/clarifying the Show Avatars settings.
Additional
I'm not entirely sure how this would go, with activity fragments, with different header levels, or whatever... It just seems.. not ideal to put a wall of options in front of someone trying to find a specific setting, or to someone new to the client.
Messages, if possible and only when there's room, could also show a possibly-scrollable preview of the new message layout, like Discord does. To better suit space-constrained phones, it could be a Preview option to show a test conversation, allowing testing realnames, avatars, etc without backing out and hunting for a conversation that has everything you need.
Example screenshot of Discord's Appearance settings page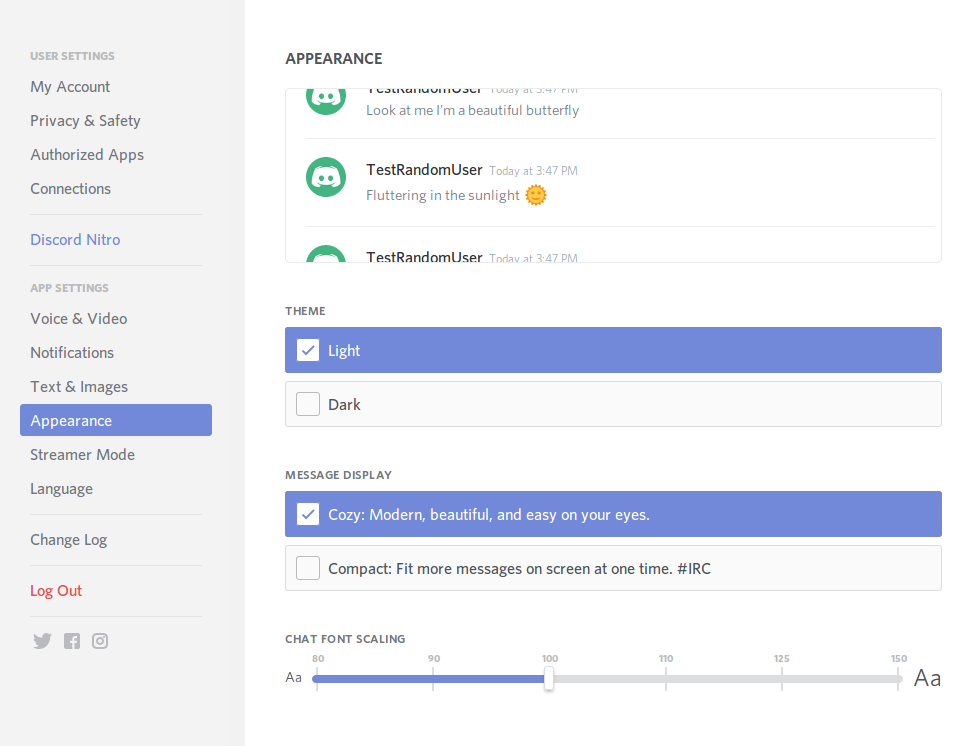 Edited
by
Shane Synan